PRODUCTS
Flexographic printing
Compared to gravure printing, flexographic printing strengthens its position in the market thanks to rapidly increasing print quality, operability and lower costs. Sleeves technology has brought an increase in the pace, simplification and reduction of costs in the subject of replacement of the printing form and in the time of proper printing. When using sleeves, laminate sleeves are provided with an elastomer or polymer layer on which a printed pattern is engraved. The finished sleeves are put on the air cores of the flexographic printing machine.
Types of rollers:
printing
applying
varnishing
Sleeves types:
flexographic printing

for direct engraving
full surface printing
for photopolymers

gravure printing
laminating
varnishing
Hardness:
Properties:
very good transfer of all printing inks
possibility of printing "endless" motifs
optimal synchronized printing of all inks
high resistance to solvents (ethyl acetate, ethyl alcohol, MEK)
long service life of the printing form
possibility of joining more materials, adjusting the value of the compression capacity
the possibility of adjusting the mechanical properties
Versions:
Types of polymers:
EPDM
NR
SBR
NBR
Silicon
Copolymer
PRODUCTS
Gravure printing
Gravure printing, as a high-speed, high-quality printing technique, places high demands on the presser rollers. Our offer includes rubber coatings for standard pressers, pressers resistant to increased toluene concentration, as well as pressers compatible with electrostatic Helio-El-Tex support.
Specifications and technical data Gravure printing
Composition rollers
Roller types:
pressers
pressers resistant to increased toluene concentration
pressers compatible with the electrostatic Helio-El-Tex (ESAG) printing support
Sleeves types:
conical
cylindrical
by degree of conduction

non-conductive
conductive
with electrostatic printing support
Hardness:
Strength
high resistance to pressure and mechanical stress
high resistance to solvents (alcohols, esters, toluene)
Benefits:
excellent mechanical properties
high resistance to solvents (alcohols, esters, toluene)
selection of the appropriate mixture in accordance with ESA requirements
possibility of recovering rolls and sleeves
let's explore the benefits of your printing with our preseters and contact us for more information
OFFSET
EXCHANGE ROLLER PROGRAM
are complete rolls ready to print for sheetfed machines, delivered from the central warehouse of Westland-LIGUM concern, directly to the printing house.
We provide:
constant availability of rollers, adapted to the needs of the market
short lead time, with delivery directly to the printing house
availability of the latest Westland technologies: LotoTec, MRS System, LED UV 2.0
ease of transaction execution thanks to LIGUM's coordination of roll exchange
Werograph-HX
Availability of rollers
LotoTec® -MRS: Modular Roller System
Exchange Roller Program
Ink rollers
Werograph
High-quality ink rollers with a long service life and good chemical resistance. The rollers ensure good paint transfer and problem-free cleaning.
Werograph-HX 

(NEW!)



Much more resistant to chemical reactions, prevents the so-called rubber corrosion and ensures ink roller stability in sheetfed offset printing with conventional inks - especially on high-speed presses up to 18,000 sheets per hour.
Wero-UV + LED UV 2.0 (NEW!)
Coatings for ink and waterjet rolls, optimized exclusively for printing with UV inks.
Weromix

The special quality for ink and dampening form rollers for mixed printing. This quality is also recommended for hybride inks.


Weronews
A new generation of rollers optimized for printing with inks based on vegetable oils (so-called vegetative inks).
Weronit

Rider or distributor rollers as an alternative to ril-san coated rollers. This quality offers an excellent runability and is also used for the recovering of film rollers with rhomb or polygone profile.
Dampening rollers
Weroaqua
A new generation of wetting rollers designed to reduce IPA and for alcohol-free printing, enable stable printing both with the classic dosing of IPA, with its reduced quantity and without IPA.

Werodamp
Consistent hardness and a special hydrophilic surface ensure optimal dosing of the wetting solution in sheet and roll printing

Werodahl
High quality combined with mechanical resistance, the coating used in the Dahlgren and Delta water systems for water feed rolls. Excellent media resistance.

Werodamp-LT
New generation water ducts designed to reduce IPA and for alcohol-free printing. Very long service life. Easy cleaning with reduced consumption of detergents. Extremely high media resistance. Reduction of paint backflow. Short maintenance time.

The new formula of the UV 2.0 mixture for UV printing developed by Westland-Ligum is a response to changes in the composition of UV inks as well as new applications for Low Energy, H-UV and LED-UV printing appearing on the market. The selection of the appropriate mixture is preceded by detailed information received from the customer, it is also conditioned by factors related to its use as well as dictated by the working environment of the ordered product.
Reduce costs and enjoy a stable printing process, high wear resistance of the rollers and a longer service life.
The UV 2.0 mixture is characterized by exceptionally high chemical and mechanical resistance, which translates into a reduction in the effort incurred for maintenance activities and, consequently, extending the life of the roller. Other properties that characterize this mixture include the reduction of typical phenomena occurring in the UV printing process, such as swelling or shrinkage of the rubber and the change of its viscosity. It is worth noting that LED UV 2.0 is now standard with the largest OEM UV machine manufacturers and is becoming more and more popular in Europe and in the world.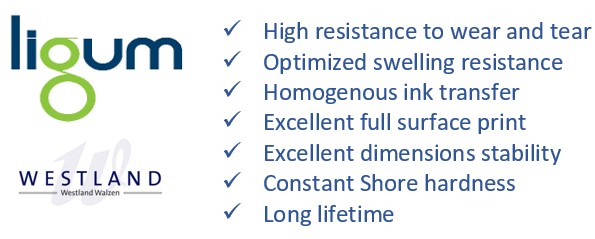 Alongside all the most important information that will help you make the best choice. Do you print UV?
Be sure to check our offer and see for yourself!